Click here to review the reading before going on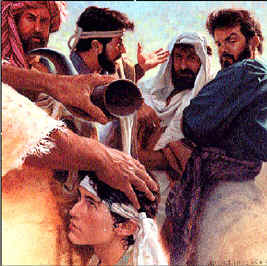 When we look at how God works in our life, at times, He does not seem to work as we think He should.  We certainly see this in the first reading when Samuel selects David to be anointed king.  I mean, after all, David is the youngest and everyone knows the oldest son in always that one that is first.  What is God thinking?
How about in your own life.  Isn't it easy to question why God allows things to happen in ways we would not expect.  People and situations can arise that give us difficulties.   Why? 
In the Gospel we see that Jesus comes to heal the blind man.  And  that man seems content with his life.  How does Jesus heal his blindness?
He smears or throws mud in the blind man's eyes?  That must have been somewhat painful.  Dirt in the eye hurts and is very uncomfortable.  Then he tells him to wash and his blindness is healed.
I know for me, when mud is thrown at me, that is, when things don't go as I want, I come out of that situation, often much later, and can see.  I can see myself more clearly .  Did I lack charity, mercy, compassion, forgiveness etc.  Did I lack being the present of Christ that my Baptism calls me to???  That can  be a wonderful gift.  Because just as Jesus came to heal the man's blindness and heal him with the gift of Faith, He comes for each of us to heal our blindness to sin and to receive His mercy.
Why are we afraid to look deep within ourselves?
The second reading states that He comes to bring us out of our darkness and into the light.  That darkness can be not really knowing ourselves spiritually.  And to see our failures, our sins, can be a great healing, as strange as that may seem.  God does work in unexpected ways.  He come to heal and bring us into the light everyday.  But if we are not in darkness about ourselves, why would we need his mercy, His healing?
Do you think the Lord is not trying to heal us everyday.  Listen to the responsorial psalm we hear this Sunday.  Wow!  Why are we so afraid to see how blind we are at times?
The Lord is my shepherd; there is nothing I shall want.
He continually searches us out as He did the blind man, to heal each of us.  Courage!
 
Download Commentary 4th Sun Lent A
---